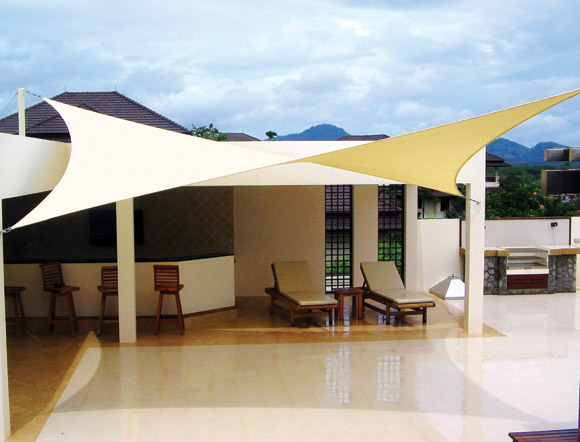 During the hot summer days, a shade sail can provide good protection for your family or garden from harmful UV rays, that's why more and more people would like to install a shade sail during summer. There are different ways to install a shade sail. You can mount it flat at all corners at the same height, or you can mount it high and low or vertically. Although it seems not a difficult job to install the shade sail, you'd better know how to do that properly.
1. Select a right location for your shade sail. The installation place should be away from your barbecue grill. And if there are some sun-loving plants in your garden, don't install the shade sail above them.
2. Determine the fixing points for the shade sail corners. You can use a large tree, a fence post, a pergola or a fascia as the fixing points. If you don't have these things where you want to mount your shade sail, you need to install posts. On each side of the sail, allow a space between the corner of the sail and the mounting point that is at least 10 percent of the sail length.
3. Use the fixing accessories to connect all the corners of the shade sail to the fixing points. For anchors, you can use a pad eye, an eye bolt with a nut or an eye lag screw. For links, you can use a snap hook, a D-shackle, an S-hook, or a turnbuckle.
4. Connect the anchor and the link. One thing to remember: all connections need to face toward the middle of the sail and be secured into the fixing point.
5. Apply tension to the shade sail. Connect all the corners to the fixing points by using the fixing accessories. You can use a rope to gain control while installing the shade sail. Keep pulling the shade sail until you can find no wrinkles on its surface. Remove the rope or wire, if necessary.
Now the work is done! You can enjoy the great convenience the shade sail brings you. If you want to add a structure that more like a room in your garden while protect you from the dazzling sun, pop up gazebos and marquees are also good choices!